Description
BRT 420GHM High accuracy 4-20mA Current Simulator Calibrator Tester outputs standard constant current source controlling signal, and its 4-20ma current signal output displays in high resolution LED exactly, output accuracy is 0.1mA. Inside the panel mount current simulator tester, there are various types of protection and conversion circuit to ensure that the signal output is steady and reliable. BRT 420GHM analog current simulator calibrator is widely used in frequency converter controlling, PLC adjustment, valve adjustment, meters testing, analog 4-20ma transmitter output simulation, signal source generation, etc. With LED meter panel mounted shell, it is easy to be embedded into equipment in prototype design and do calibration test in industrial site.
Features and Benefits
-Use pluggable wiring terminal blocks , it is safe and easy to do wring connection.
-Use high accuracy long life potentiometer for output adjustment.
-Power supply has reverse polarity connection protection, self-recovery fuse protection functions.
-4-20mA signal output has anti-thunder, anti-ESD interference protection circuit.
-Standard 5135 panel mounted meter case, easy to install.
-Two adjustment knobs, one for rough adjustment and another for fine adjustment.
-Use 0.56inch high brightness LED display to ensure its light effect in long distance and strong light fields.
-With backside cover, it is much more reliable in performance.
4-20mA Current Simulator Calibrator Technical Parameters
| | |
| --- | --- |
| Parameters | Typical Value |
| Power supply voltage | 9-30VDC, Recommended 24VDC |
| Power supply current | ﹥150mA |
| Output ripple | <30MV |
| Output current range | 3.3MA-21MA. |
| LED Display | Current output signal, 0.56inch LED. |
| Output load capacity | Typical 0~350Ω@12V power supply; 0~800Ω@ 20V or 24V power supply. Depends on power supply voltage. |
| LED display value | Output current ≥20mA, display digit 1. |
| Output voltage min. value | 0V |
| Current source output response | Fast response, real-time |
| Min. static power consumption | 1.728W(72MA/24V,) no load in output |
| Max. operating power consumption | 2.16W(90MA/24V) |
| Output adjustment accuracy/step | 0.1mA |
| Temperature offset accuracy | 3% |
| Temperature ripple offset accuracy | 2% |
| Dimension (LxWxH) | 79x43x25mm |
| Panel Cut-out size | 76x39mm (±1mm error) |
| Color | Grey |
| Unit weight | 71g |
Two Adjusting Knobs 4-20mA Current Simulator Calibrator Backside View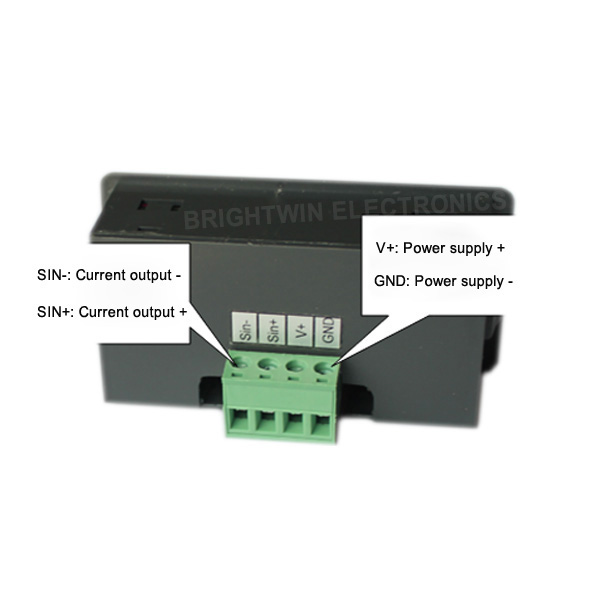 One Adjusting Knob 4-20mA Current Simulator Calibrator Backside View