Description
BET PWM-V Series PWM to 0-5V Converter Module accepts 4-24VDC amplitude 50Hz-10kHz PWM signal input and converts it into proportional standard dc voltage output. The PWM signal is processed by the internal linear regulation and conversion circuit and chips. It is in high linearity, high efficiency, small size and low cost. The output is standard 0-5VDC or 0-10VDC, user can switch it by short connected S2 or J2 welding pad, power supply is 9V-24VDC wide range. That PWM to voltage signal converter module is widely used in remote data acquisition and controlling devices, transmitter, DAC based circuits, meters and instruments, etc. That pulse width modulation module provide a low cost simple solution in developing a controlling system based on PWM.
PWM to 0-5V Converter Features and Benefits
– Low cost, mini size, easy to use.
– 5Hz-500Hz or 50Hz-10kHz PWM input, 0-5VDC or 0-10V output.
– PWM signal linear conversion, fast response.
– 9-24VDC wide range power supply.
– Simplify the developer's circuit.
– 4-24V amplitude voltage input,0%-100% duty ration.
– Operating temperature range: -20-+70℃
– User can develop it by adding external circuits.
PWM to 0-5V Converter Technical Parameters
Items
Parameters
Input signal type
PWM Signal
Input voltage range
4-24VDC
frequency range
5Hz- 500Hz OR 50Hz~10KHz
Input duty ratio
0~100%
Input mode
S1 or J1 Welding pad: the default is open circuit.
Output signal
0-5VDC or 0-10VDC
Output mode
S2 OR J2 Welding pad: the default state is open circuit 0-5VDC output. If 0-10VDC output is required, the S2 or J2 welding pad should be in short-circuit.
Output resolution
0-5VDC output: 0.050V/D (V/Duty ration)

0-10VDC output: 0.100V/D (V/Duty ration)

Power supply
9-24VDC
Size (LxWxH)
26x23x10mm
Jointing temperature(10sec.)
+300℃
Operating temp. range
-20–+70℃
Operating humidity
0–90% RO
Storage temp. range
-20–+75%
Storage humidity
0–95% RO
Note: when the output is 0-10VDC, the power supply voltage must be 15VDC
PWM to 0-5v Converter Pin Definition: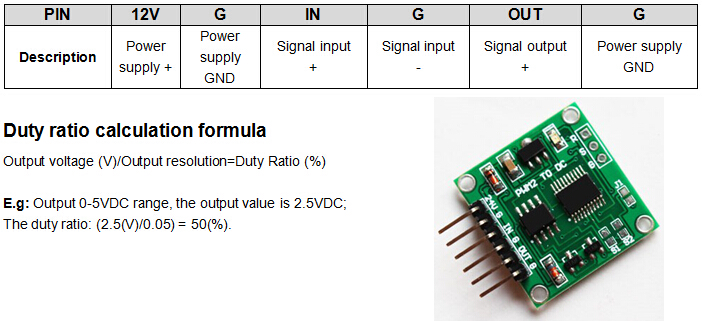 Please contact us for details if you have any questions.