Description
This analog simulation device can simulate passive 4-20ma current signal or 0-10v voltage signal. 4-20mA simulation output module can also be used as a 4-20ma loop tester. It is a simple suitable simulation kit for developers to do signal calibration on PLC, DCS, Valve, frequency converters, etc. 4 digits LED display, 35mm DIN rail-mounted case makes it become a suitable signal calibrator or generator device in industrial site.
DC Current or Voltage Generator Calibrator Main Parameters
| | |
| --- | --- |
| Current voltage simulation output: | Passive 4-20mA or 0-10v |
| Power supply: | 12-24VDC |
| Operating current: | <50mA |
| Adjusting mode: | Pressing Button or Rotation Knob |
| Output accuracy: | 0.1mA or 0.05VDC |
| Display: | Red 4-digit LED tube display |
| Installation: | Standard 35mm DIN rail-mounted. |
| Operating temperature range: | -40–+75℃ |
| Storage temperature range: | -40–+75℃ |
| Dimension: | 88.6×54.6×33.1mm |
DC Current or Voltage Generator Calibrator Benefits
-DC current 4-20mA or 0-10V voltage signal simulation.
-Meters, PLC, DCS signal calibration.
-Valve, frequency converter signal adjustment.
-Thermocouple signal testing and calibration.
-DIN Rail-mounted 4-20mA or 0-5V signal calibration.
Signal Generator Simulator Operation Buttons Instructions
Sel: select current value 4mA,5.6mA, 7.2mA, 8.4mA, 10.4mA, 12mA, 13.6mA, 15.2mA, 16.8mA, 18.4mA,20mA.
Ent: Enter into 0.1mA step adjustment.
Reset: Return back to last step.
DC Current Voltage Signal Generator Wiring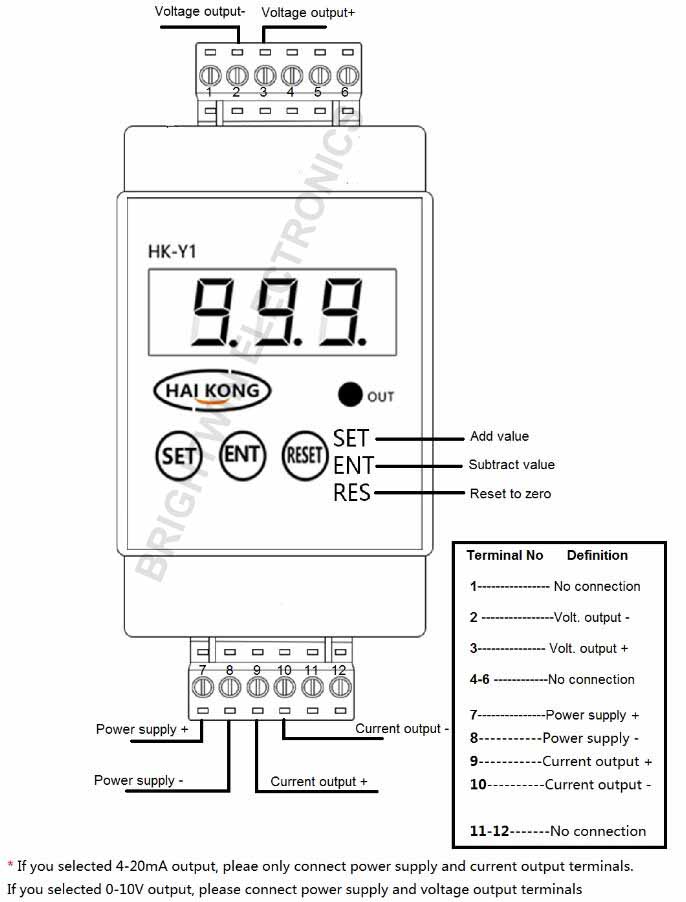 4-20mA or 0-5V Simulation Application Circuits